I have been meaning to make an update regarding the advertising tax. First of all there have been victories and other updates going on in the past week or so. No matter what news we hear we need to remember to remain on top of things and create a state of awareness amongst ourselves and others. Joel Garcia of GTO Management had a fantastic idea on how he could do his part to help.
As much as I love my punching bag icon for the Fight Against the Advertising Tax group on Facebook, but he has come up with a powerful awareness badge. It displays all the States being affected by the advertising tax. I have added it to my blog, the ARC blog, and the Facebook group. I have also seen several blogs displaying the badge already. This idea is Simple yet effective.
All you need to do to help is add this badge to your site or blog. This will definitely help spread awareness. The most important thing to do when you set it up is to link to any source that you find educational about the advertising tax. We not only want to spread awareness but we also want to educate others on why this tax affects us all.
Linking Ideas:
Affiliate Voice
Performance Marketing Alliance
Facebook Group
Affiliate Tax Law Forum
You can grab the banner size of your choice below and also change the link to your resource of choice. Thank you for all your support. This is just another way to spread the word.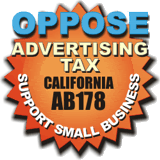 125×125 image
<a href="http://affiliatevoice.com/"><img src="http://i637.photobucket.com/albums/uu100/nexusaware/sitebadge125.gif" alt="Oppose Advertising Tax - Support Small Business" width="125" height="125" /></a>
160×160 image
<a href="http://http://www.facebook.com/group.php?gid=77931506576&ref=ts/"><img src="http://i637.photobucket.com/albums/uu100/nexusaware/sitebadge160.gif" alt="Oppose Advertising Tax - Support Small Business" width="160" height="160" /></a>
250×250 image
<a href="http://performancemarketingalliance.com/"><img src="http://i637.photobucket.com/albums/uu100/nexusaware/sitebadge250.gif" alt="Oppose Advertising Tax - Support Small Business" width="250" height="250" /></a>